Code Red XL Build
About
As many of you know, my L3 bird known as Code Blue, met a sad ending on its 5th flight in October of 2014. The CTI M840 White Longburn boosted it beautifully to about 21K, at which point the drogue didn't deploy and the rocket came in ballistic. At 1000', the main deployed which quickly shredded, zippered the upper airframe, while the rest of the rocket augured several feet into the desert floor. Nothing was salvageable except for the nosecone and GPS.
That whole crash was a true heartbreak, but since I need a new big rocket, why not build a bigger one? :) "If at first you don't succeed, plug in the turbocharger and try again!" Hence, Code Red XL was born.
Code Blue was named after the first Estes rocket I ever flew, called "Code Red," back when I was about 9 years old. Since I painted that rocket blue and silver, I opted to name it with Code Red in mind! Keeping that old tradition going, I named this rocket Code Red XL. Of course, I may need to rename it depending on what colors I use for painting. ;)
Code Red XL is a scratch build. All of the fiberglass components were ordered as a combo from ProLine Composites / Rocketry Warehouse and are in green fiberglass. Construction of Code Red XL began in August 2015 and was completed in September 2015. Its first flight was on September 26, 2015 on a research N3500.
Specifications
Length: 12 feet
Diameter: 5 inches
Motor: 98mm
Airframe material: Fiberglass
Fin meterial: Fiberglass
Nosecone material: Fiberglass
Altimeters: Featherweight Raven3 and a MissileWorks RRC3.
Construction Photos
Click any image to view it larger.
Rocket Kit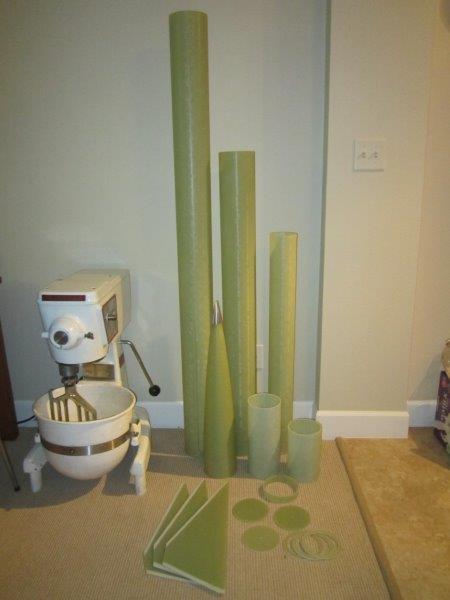 My custom order from Rocketry Warehouse.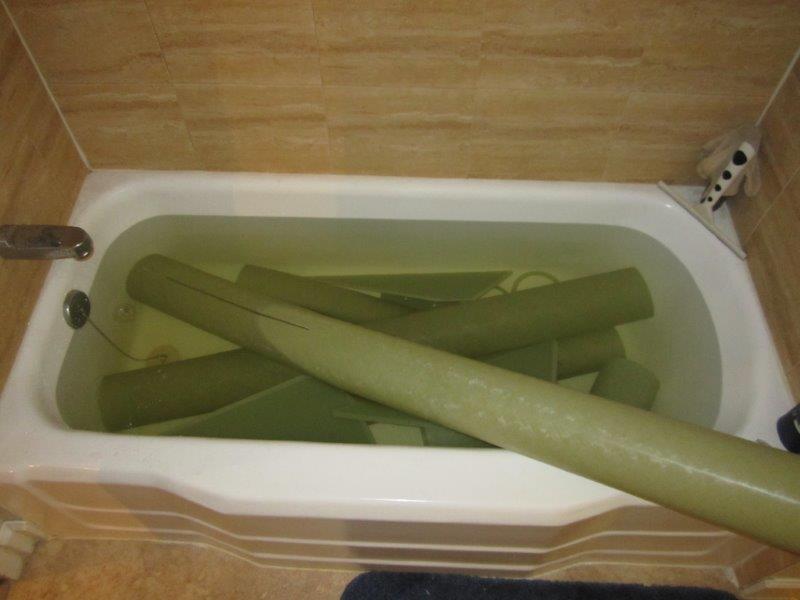 First, we soak all the fiberglass parts in water to get rid of mold release coatings. Note the fin section was a little long for my bathtub...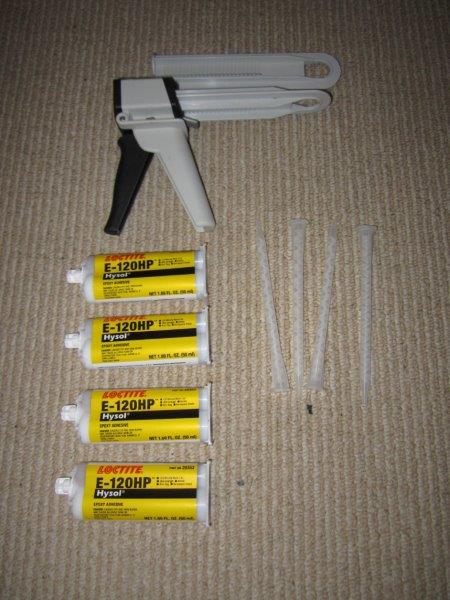 I used Loctite E-120HP for this project. It is available from McMaster-Carr, along with these mixer nozzles and dispensing gun.
Fin Can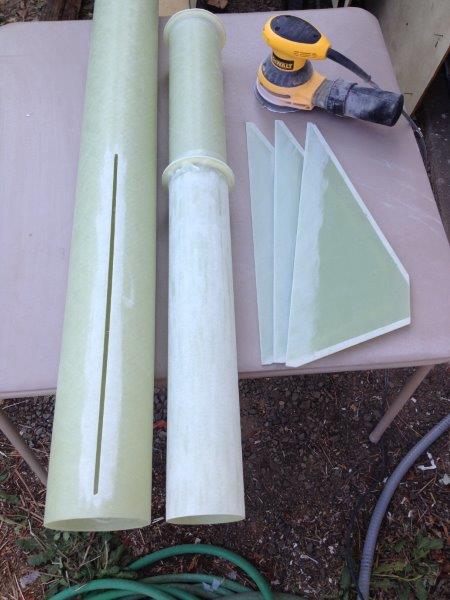 In preparation for assembly of the fin can, we sand all surfaces to be bonded using 120-grit sandpaper on an orbital sander, followed by 80-grit on a sanding block.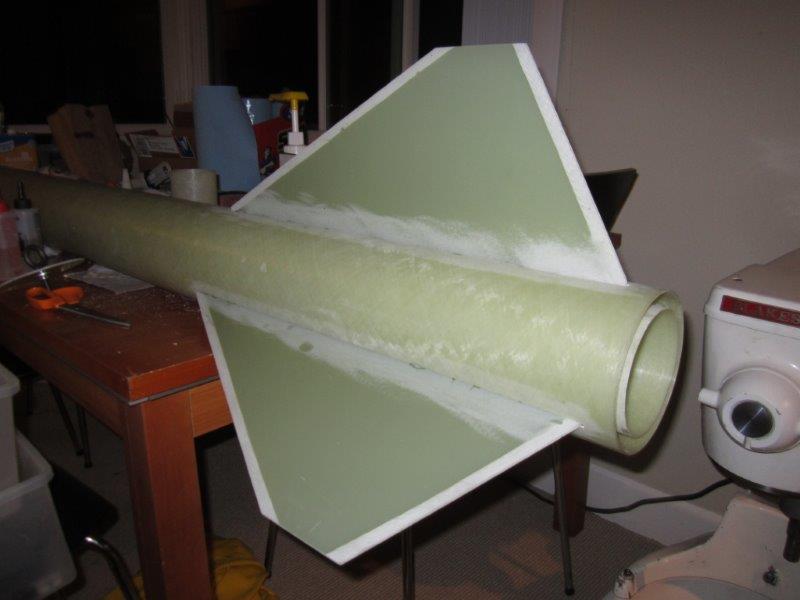 When then glue the motor tube/centering ring assembly into place and begin setting fins.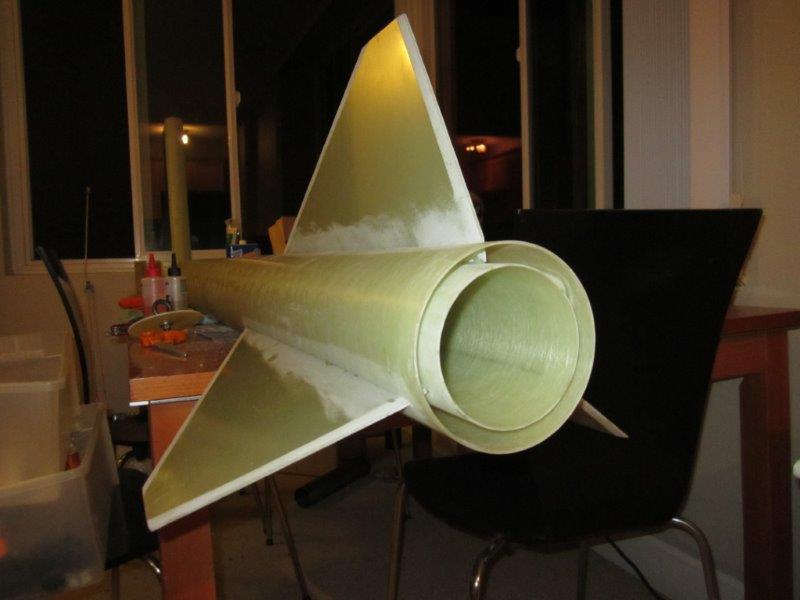 Motor mount and fins all in place.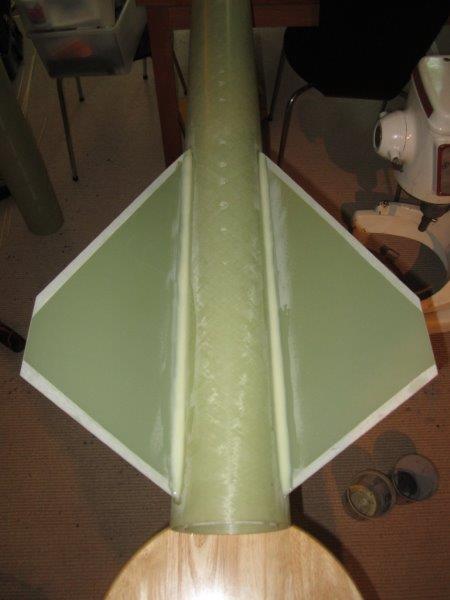 Fillets done with Loctite E-120HP.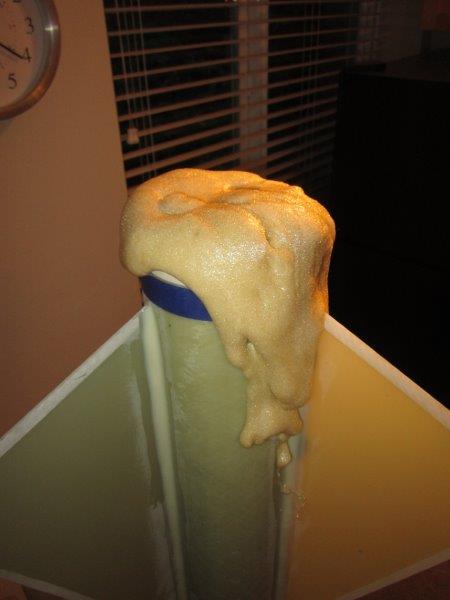 Once fillets are complete, we pour 2-part expanding foam down into the fin can for extra reinforcement. Canned hardware store foam will not work for this, hence a 2-part foam is needed. TAP Plastics carries it. The excess foam is carved and sanded away after fully curing.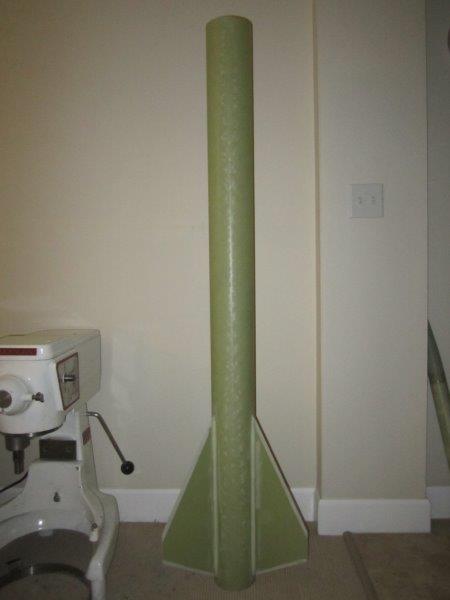 Completed booster section.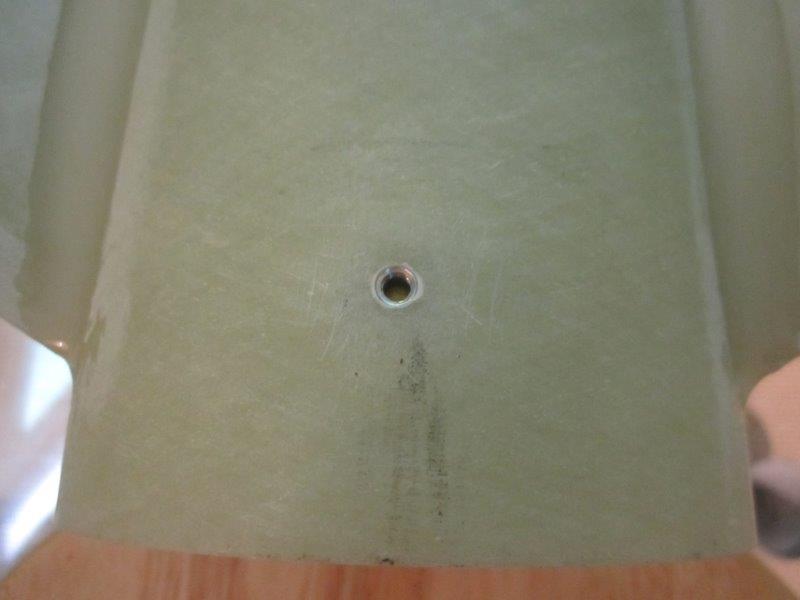 Rail buttons are secured by mounting t-nuts inside the airframe. See my Code Blue build page for a more detailed description on how this is done.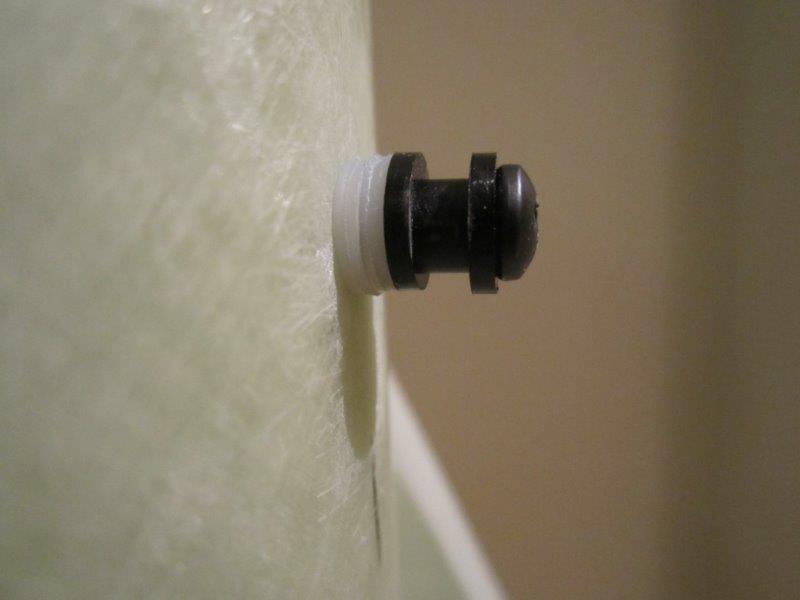 Mounted rail button in place, with nylon spacers to distance it from the airframe.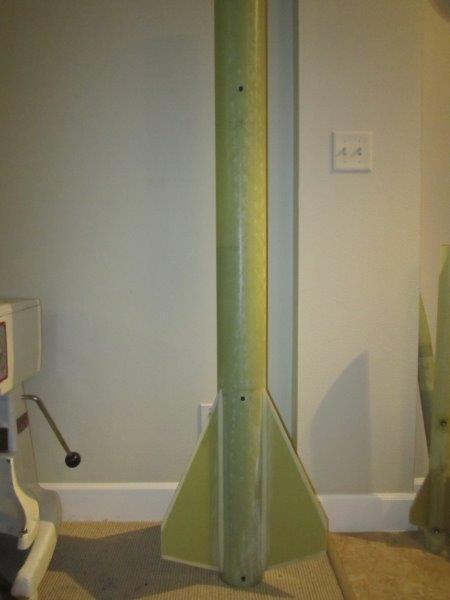 Completed rail buttons.
Altimeter Bay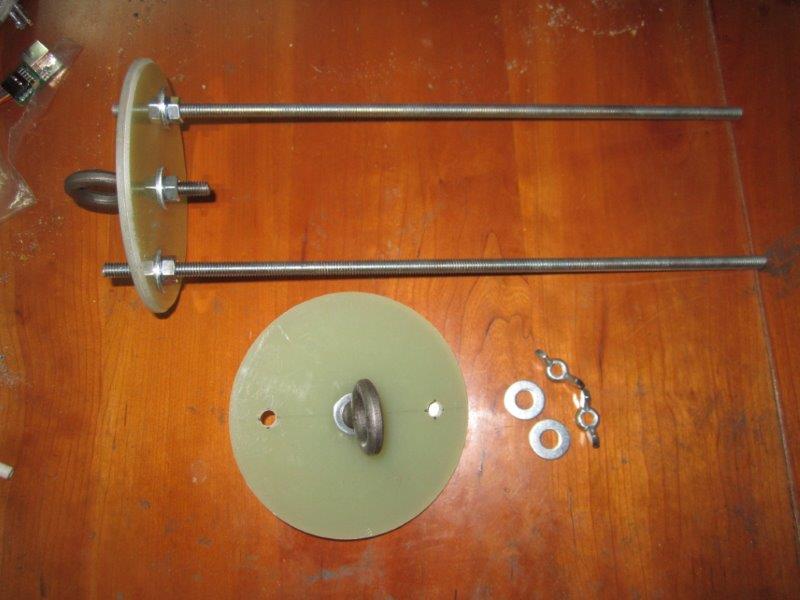 Internal components of the av-bay - 5/16" all-thread rod, forged eyebolts, and hardware.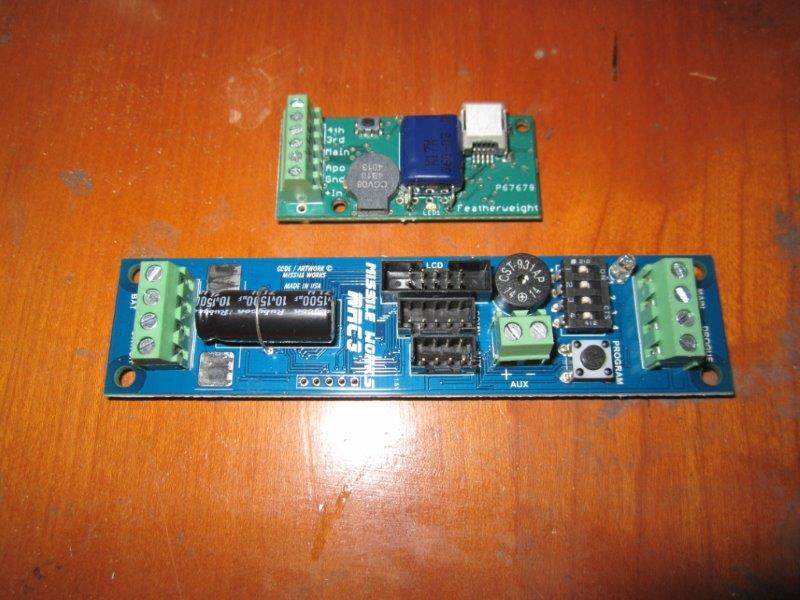 Altimeters - a Featherweight Raven3 and a MissileWorks RRC3.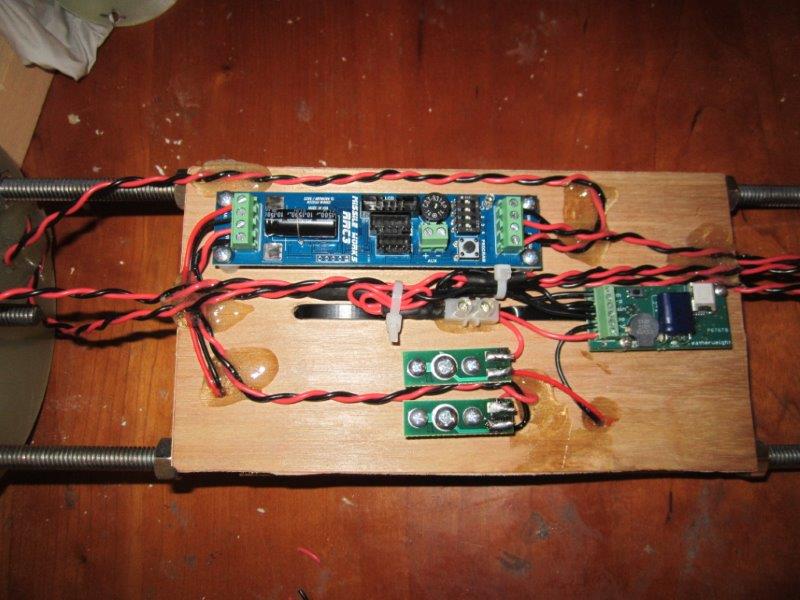 Altimeters mounted in place on the sled with switches and wiring. The screw switches are also from MissileWorks.
Nosecone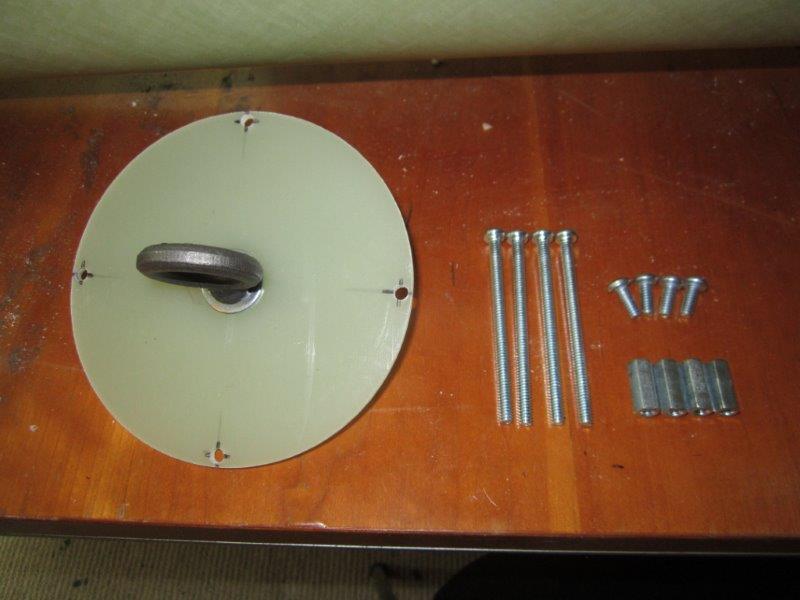 Hardware we will be using for the nosecone - bulkhead with 5/16" forged eyebolt, #10-24 x 3" machine screws, #10-24 x 1/2" machine screws, and #10-24 hex couplers.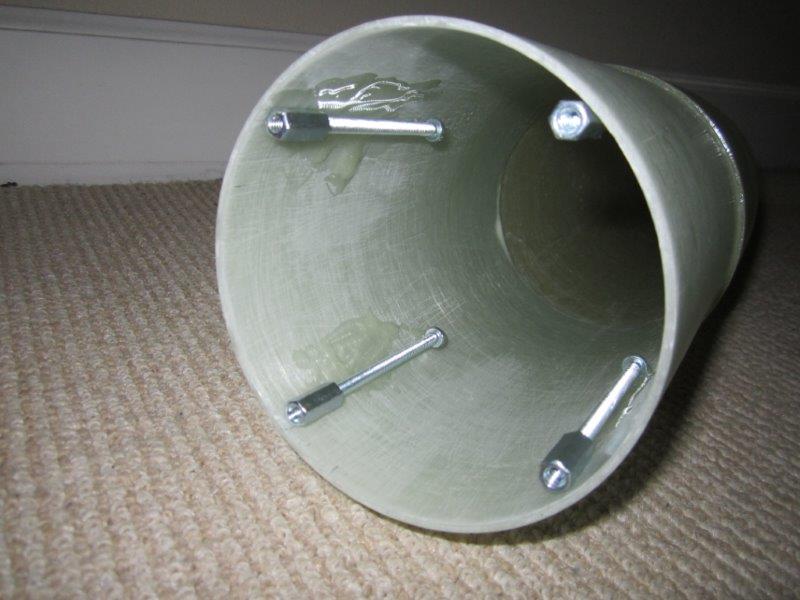 Nosecone anchors assembled and tacked into place using standard hobby shop epoxy.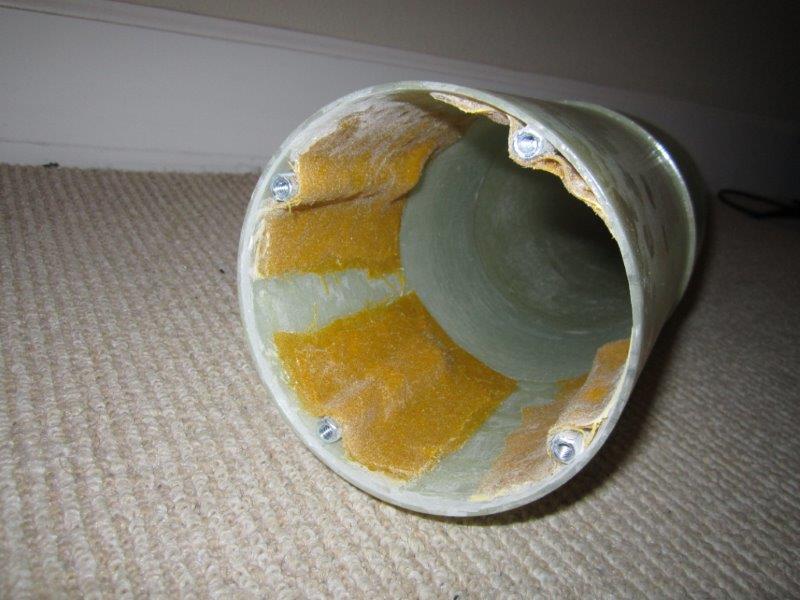 Then, reinforced with Kevlar. Check out Vern Knowles' site for a more detailed description on how this is done.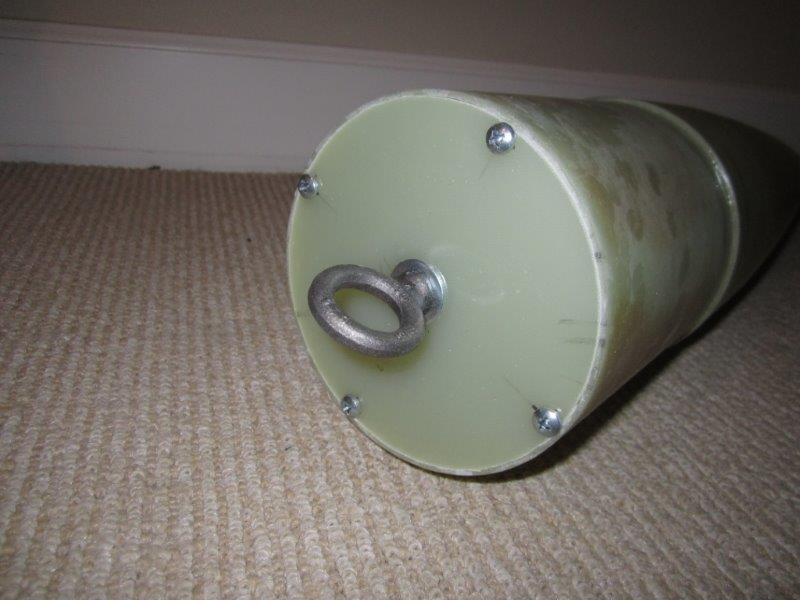 Nosecone bulkhead installed.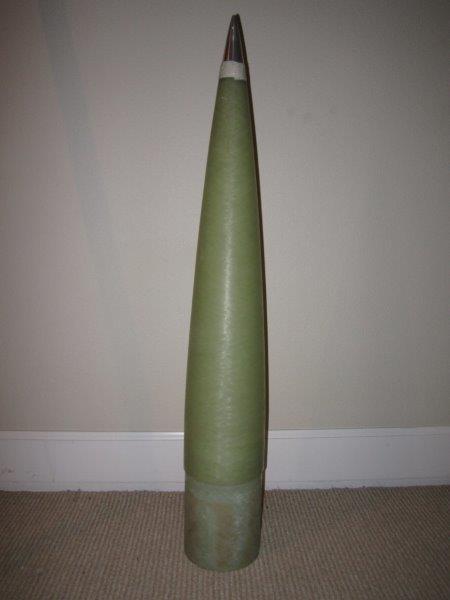 Completed nosecone.
Recovery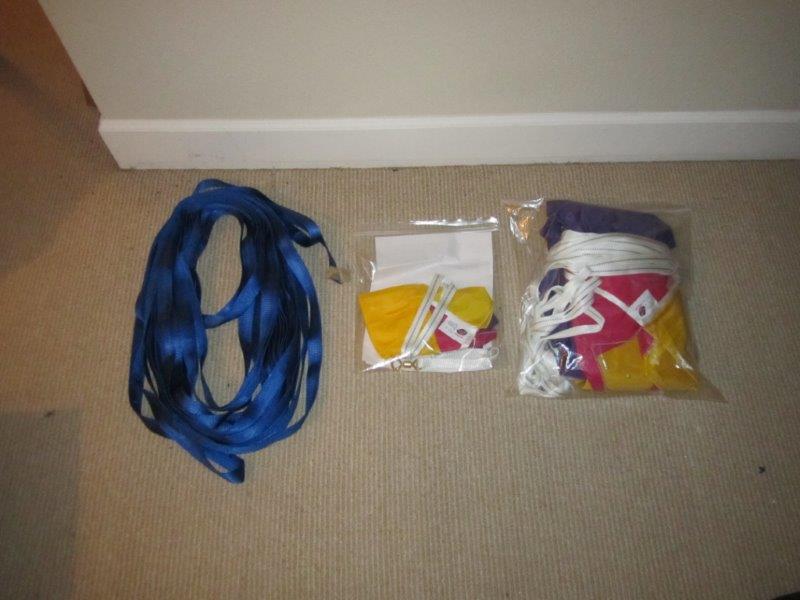 Shown here are the recovery components - 100' of blue 1" tubular nylon webbing from REI, a SkyAngle Cert-3 Drogue, and a SkyAngle Cert-3 XL Main.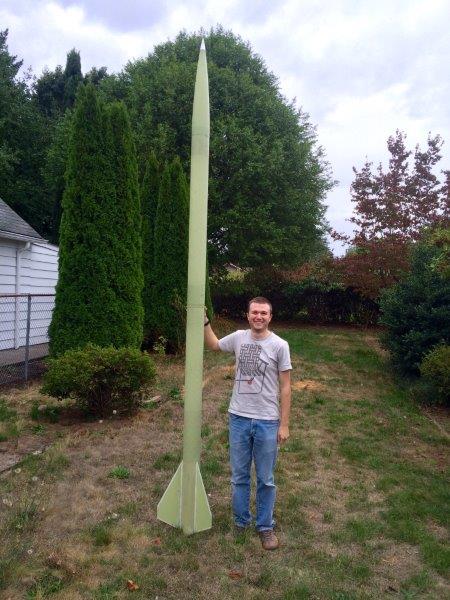 Posing with the completed rocket. Now all it needs is some paint... (Photo credit to Craig Alness.)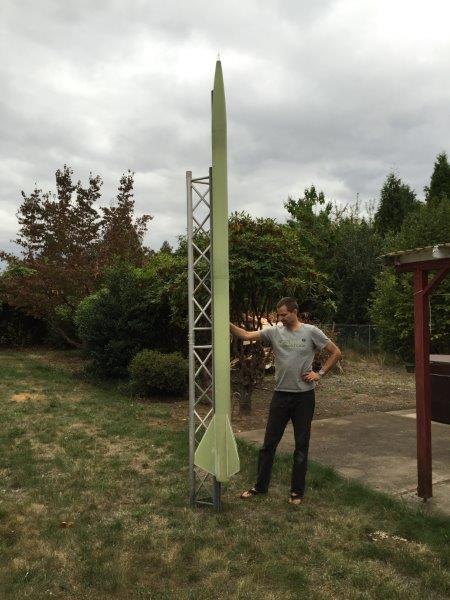 Test-loading on the pad. No motors or recovery gear, just the empty airframe here.
Flight Log
September 26, 2015 - Research N3500 (Black Rock Desert, NV).
First flight, max altitude 20,491'.
September 27, 2015 - Research N6000, motor by Pete Ekstrom (Black Rock Desert, NV).
February 27, 2016 - Research N3300 (Brothers, OR).
June 26, 2016 - Research M2400 (Brothers, OR).