Dance
I do 2 different types of dance - Morris, and Contra.
Morris
"Morris Dancing" is a kind of English dance, with bells as well as sticks, or handkerchiefs. It is always done to live music. Overall, Morris dancing is a super low-key and fun activity, not to mention athletic! We have 2 Morris teams (called "sides") in the Portland area, and I am currently a member of both of them.
Bridgetown Morris Men
The first side I dance with is called Bridgetown Morris Men. It is an all-men's side, and I joined them around June of 2015. Bridgetown does 2 different types of Morris - Cotswold, and Border.
Cotswold
Here is a video of Bridgetown doing a dance called "British Grenadiers." Note this video was filmed several years ago, and hence I am not in it.
Border
Border Morris originates from the England/Wales border (hence the name) and is often a much looser, freer style, and more "ruccous" than Cotswold. Here is a video of a dance called "Just As the Tide Was a Flowin'", filmed at the 2016 Seattle Wassail.
Renegade Rose Morris
The other side I dance with is a mixed (co-ed) side called Renegade Rose. You can view the website there for more information about the group and what we do. There was a Morris dance featuerd in the 2014 Christmas Revels, and shortly after the Revels were finished for the year, let's say I was "approached" by several team members to come and join Renegade Rose. :) I have been dancing with them since January 2015 and they do not dance Border (like Bridgetown does) - only Cotswold.
Here I am dressed up in Renegade Rose "kit" on May Day 2015: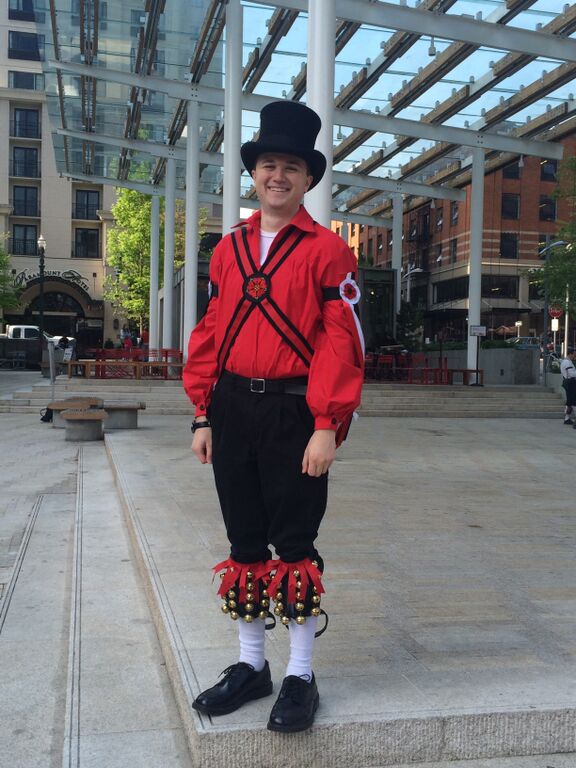 (Photo credit to Craig Alness.)
And here is a video of Renegade Rose doing a dance called "Berkeley Windmills" at Northwest Folklife 2015 in Seattle, WA:
Belladonna Border
Stay tuned. :)
Contra
"Contra Dancing" is a type of Americanized square dance, done in lines also to live music. (Are you sensing a trend here?) :) It is somewhat of an American take on English Country Dancing. It is danced to a variety of music, most notably folk and old-time. (More or less...)
Each person has a partner, and 2 x sets of partners form a set of 4. These are what make the lines. As the dance progresses, each set of 4 changes forming a seamless reel! (It's supposed to be seamless, rather.) ;) Here are a few examples.
The tune is "Flying Home to Shelley."

The tune is "Old Joe," a personal favorite of mine.
The "governing body" of Contra (and English Country) dance in Portland is known as the Portland Country Dance Community. Most often, they hold Contra dances every Saturday night at a local community center - check out their schedule for specifics. Please join us!