Bells On Build
About
I could use some more crossovers between rocketry and my other hobby, hence the "Bells On" name. I have this really nice Mike Fisher 98/17500 (48" long) EX case which has flown twice in Code Red XL now, but it's really begging for a minimum diameter project. This project is designed around this particular case.
Construction of Bells On began in March 2016 and is currently in progress.
Specifications
Length: 6 feet, 11 inches
Diameter: 4 inches
Motor: 98mm (minimum diameter)
Airframe material: Fiberglass
Fin material: Fiberglass
Nosecone material: Fiberglass
Altimeters: Featherweight Raven3 and a PerfectFlite StratoLoggerCF.
Recovery: Rocketman 24" drogue and a Rocketman 5' main.
Construction Photos
Note: Construction of this rocket is currently in progress. Additional photos will be posted here as they become available.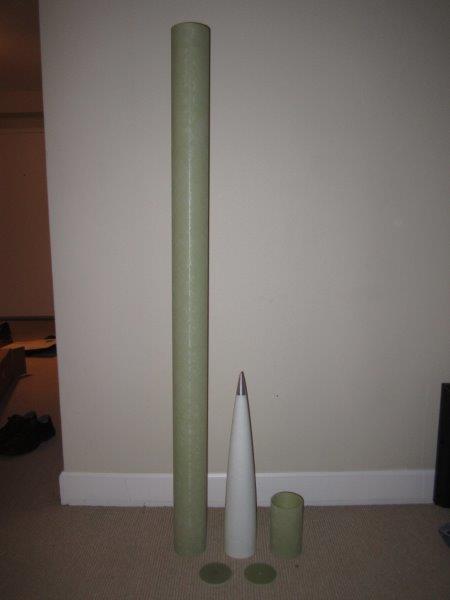 Fiberglass components, manufactured by ProLine Composites and purchased from Madcow Rocketry.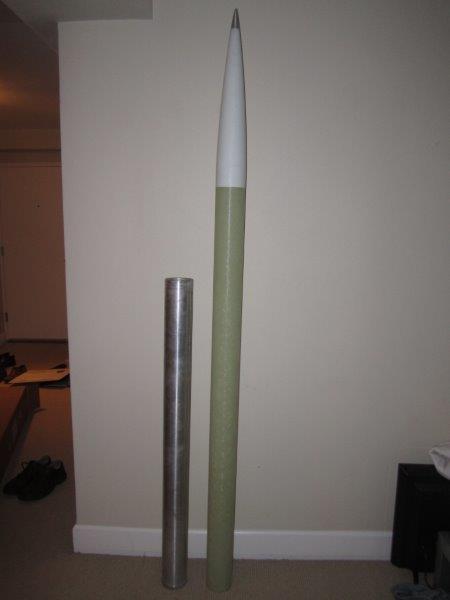 Airframe and nosecone next to the motor case. :)
Fin Can
The fins for Bells On were cut from a sheet of 1/8"-thick G10 sheet from McMaster-Carr. They sell it as "Garolite" and part # 8667K243 is for a 12" x 24" sheet of this material. I cut it myself using a 10" carbide blade on the table saw. Then, we use a belt/disk sander to smooth and match all the edges, as shown here. As you can see, they came out great!
Lastly, we add bevels. These too, came out very well using a masonry cutting wheel on the table saw, with an angled jig. Then, any small imperfections are easily removed using the belt/disk sander.
Fin #1 glued on with Loctite E-120HP epoxy, next to Power Line Seeker III.
Fins #2 and #3 glued on.
Lastly, Fin #4 glued in place.
More to come!