Summer Skies 2014 - July 25-27, 2014 (Brothers, OR)
Since the PSAS pickup launch was only the weekend before OROC's next scheduled event, I had merely a week to get ready for my next trip out to the sage. Oh my! Despite that, I still had a fabulous time. This launch was much more low-key than NXRS but still had a good crowd on Saturday. A few members even made a re-appearance after a year or more's absence!
I guess this weekend could just as easily be titled "Blast from the Past" since I (quite by coincidence) flew my L1, L2, and L3 birds in that exact order!
I also got to use some new GSE at this launch that I had been working on. I had recently finished building my Fred Azinger/David Holloway-inspired launch tower, 12' of 1010 rail supported by stage lighting trusses. I had flown a few smaller rockets off of it at the PSAS launch, but this past weekend it got to see some bigger flights. I had also built my own wired launch system, and it was used as one of the away cell controllers for the weekend. It worked perfectly each time.
I left Portland Friday morning but after a few delays on the drive over I got to Brothers later that afternoon than I would have liked. After doing my usual Friday routine – camp set-up, registration/waivers, and getting my new tower together – the sun was setting so I skipped flying a rocket that day. I had dinner and had a good time around the fire that night.
First up Saturday was my PML Small Endeavour (my L1 bird) on a "just-for-fun" H97J flight with motor ejection. Recovery was easy with the BRB900.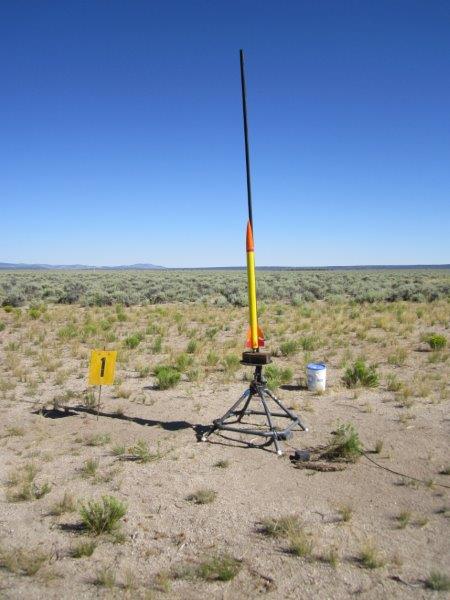 Next on the pad was the Binder Excel Plus (my L2 bird). It flew on a K375NW which wound up being its final flight. This was the first time I had flown one of these – the 54/2560 motor has a grain of Warp-9 propellant at the aft end for a good boost off the pad before continuing on 4 White Lightning grains. Essentially, it's a boost-sustain design.
When the motor lit that very sharp Warp-9 boost was…well…a little TOO much boost! After a bit of corkscrewing off the pad the cardboard airframe folded and shredded quite spectacularly towards the west end of the flightline! Contrary to a few theories, I did NOT lose a fin. After 11 flights on that rocket, the aged airframe just gave up. But I got all the parts back and the fins are intact in the event I do a rebuild.
Gary Goncher got a nice photo sequence of the shred...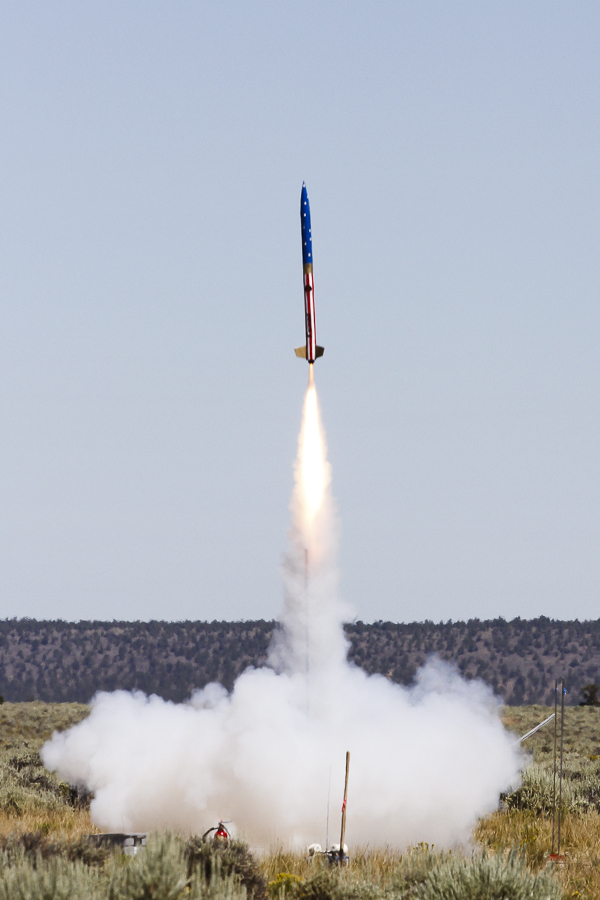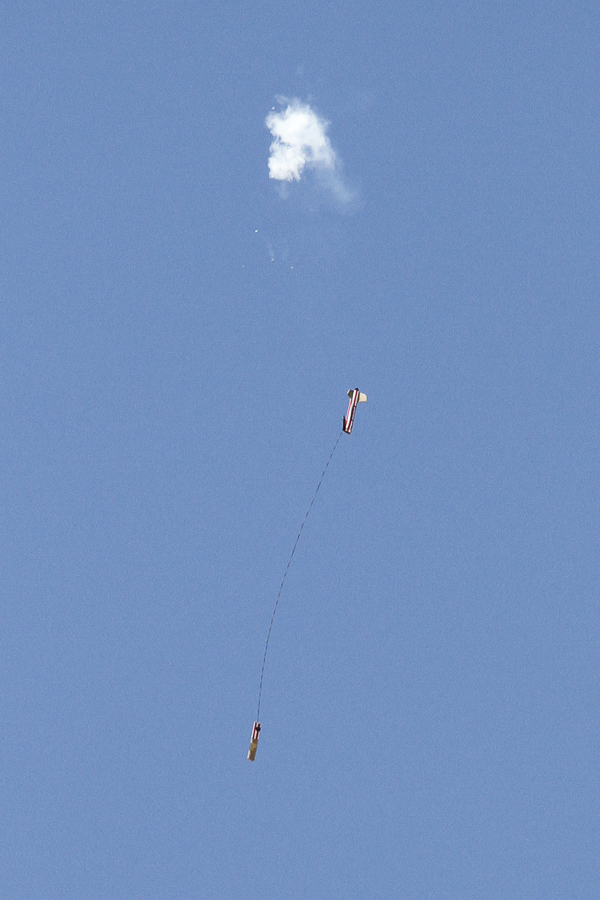 I took a lunch break and did my LCO shift when I figured I still had to end the day on a high note. This meant time to fly my M! I finished prepping Code Blue on an M1297W, a near-exact duplicate of my L3 flight from NXRS.
This flight couldn't have gone any better! The boost was perfectly straight on its way to 13,500'. I lost sight of the rocket until the main came out – and it only landed half a mile from the flight line. I hopped in the truck and drove down the main entry road until I was getting close, at which point I saw the 10' Rocketman chute blowing in the wind a mere 200 yards off the road! It really doesn't get any better than that.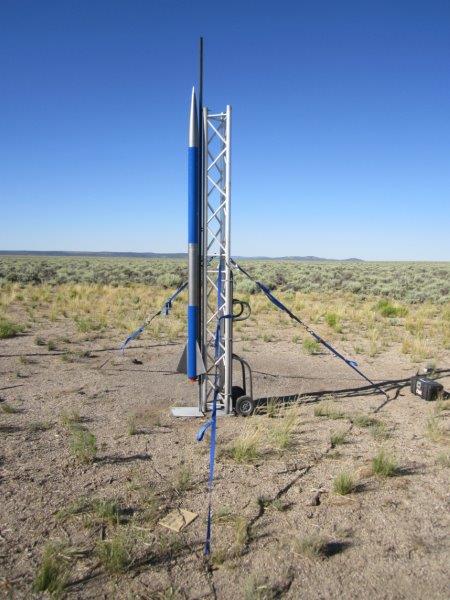 Feeling very satisfied with the day I cleaned up my normal "mess" at camp and got dinner going, followed by another nice night around the fire.
The K550W is one of my favorite motors, so Sunday morning was the time to fly one. After a few minor repairs to my 4" altimeter bay which I had previously flown in my shred, I prepped my NXRS Research Test Vehicle, built the motor, and got it all ready to go.
The K550W took it to 7,400' and I opted to fly the rocket drogueless. This worked perfectly and as the main came out at 500', the rocket landed a quarter mile from the old burn pit NW of the flightline.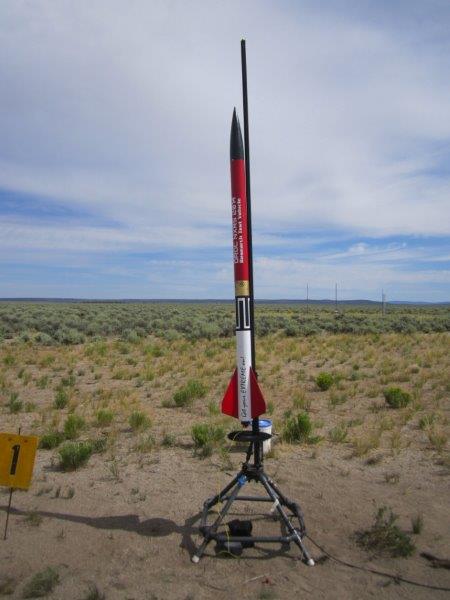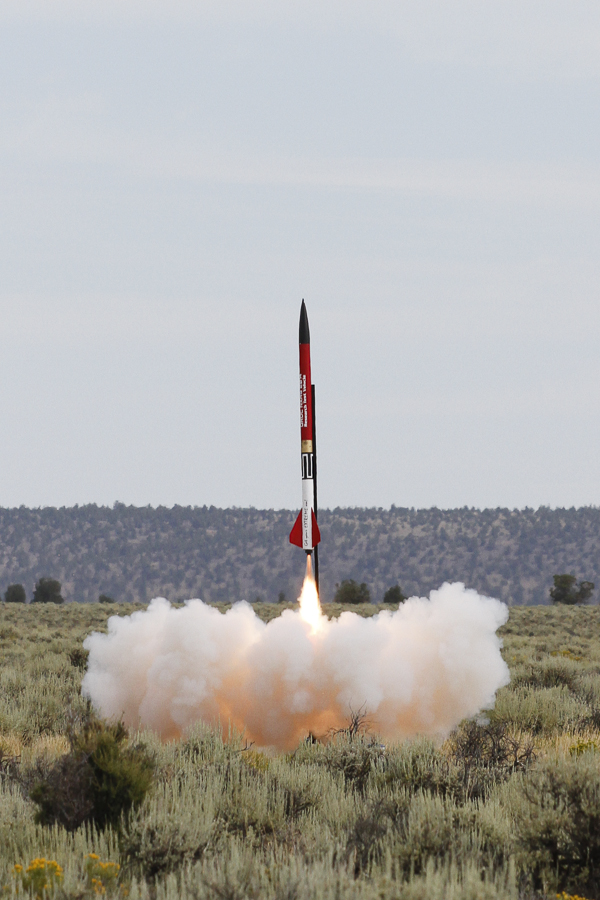 (Photo credit to Gary Goncher.)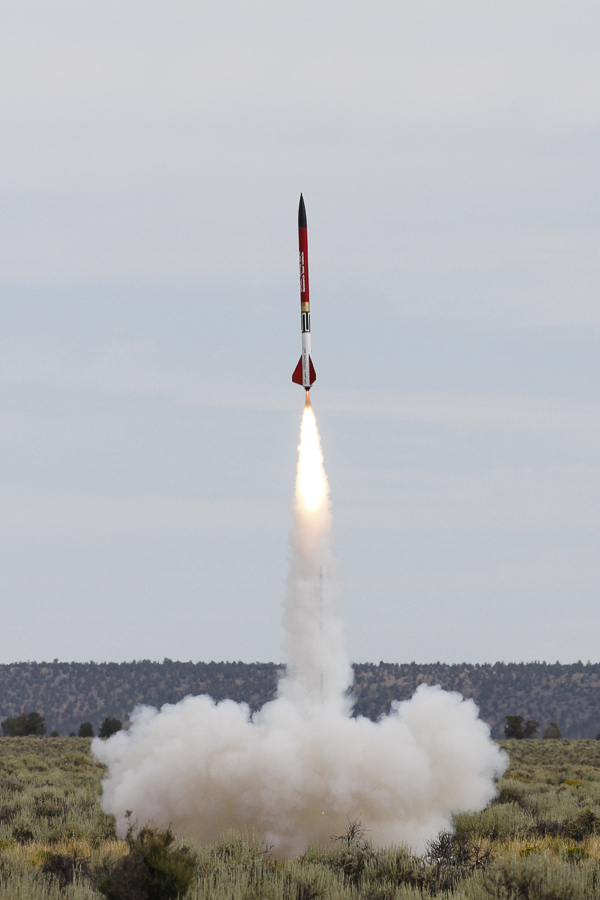 (Photo credit to Gary Goncher.)
After recovery I packed up camp, had lunch, and hit the road about 2:30 PM. That got me back to Portland around 7:00 PM after an uneventful drive.
Thanks to everyone who volunteered to help out this weekend! It was another fun weekend in the sage.