Spring Thunder 2014 - May 16-18, 2014 (Brothers, OR)
The first scheduled Brothers launch of the year was Spring Thunder, and it was well attended for being a May launch! The weather even cooperated for the better part of the weekend.
Friday morning I activated the waiver for 8:00 AM so the OSU team could launch their big project. Having communicated briefly with them via phone/text I got word that their flight was largely successful, except for a few recovery issues.
I headed out around 9:15 AM on Friday morning. As usual it was an uneventful drive over the pass, and I arrived in Brothers at 2:30 PM or so. By the time I got camp set up, got David Holloway's tower set up (I was borrowing his for this launch since he was not in attendance), and took care of registration, the wind was howling so flying was not an option. But luckily, after finishing prepping a few rockets and catching up with fellow members, it finally died down.
I'd had an Apogee Medalist F10 motor sitting in my box for a few years now. It's a blue thunder endburner, burns about 8 seconds with very low thrust. I had nothing to fly it in up until few weeks ago when I put together a 29mm tube, a nosecone, and some fins. The goal was to just watch it go and hope maybe I get it back! Robert Braibish had a new minimum diameter tower to test out, so my rocket was the guinea pig. After a few problems with igniters it finally went up, up, up…and disappeared! Needless to say I wasn't surprised by this, and the "rocket" remains out in the sage someplace.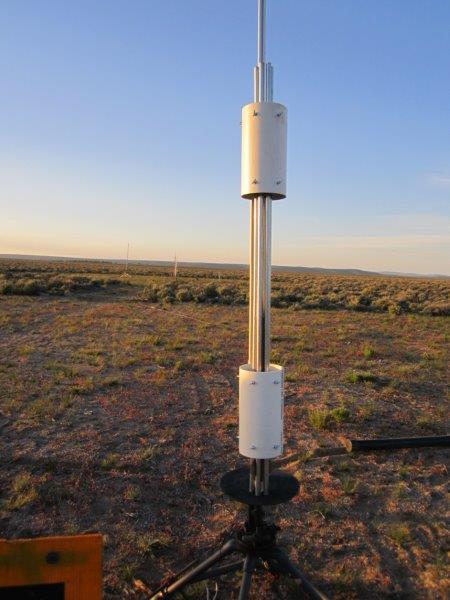 After dinner and scavenging around for dead sagebrush to burn, we had a good time around the campfire that night.
Saturday morning I finished prepping my Binder Design NXRS Commemorative Rocket for its first flight. Motor of choice was a K805G, another motor I had leftover from last year. That motor REALLY got it moving! A great flight to 7747', and an easy recovery about 100 yards off the main entry road.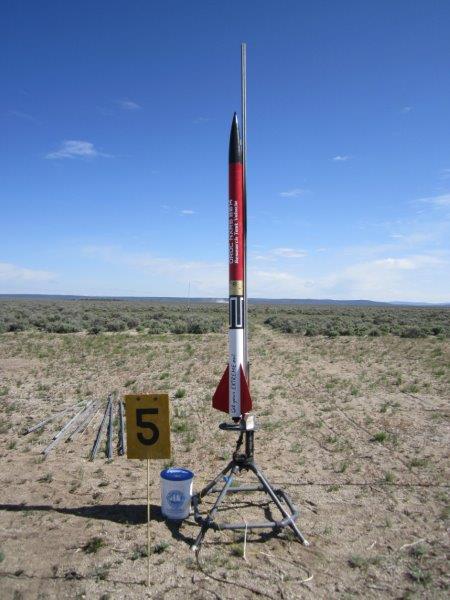 Next up was my L3 rocket, "Code Blue," a Competitor 4 stretch from Wildman for its test flight. It flew on an L850W, my biggest motor to date, and also my first 75mm. I picked up the reload from Sunriver Nature Center and put it together – it felt easier than building most 38mm motors! Put my BRB900 in the nosecone, added the shear pins and she was ready to fly. Many thanks to Eric Thomas and Tim Ryerse for helping load it on the pad. Thanks to Tim as well for the nice pad photo!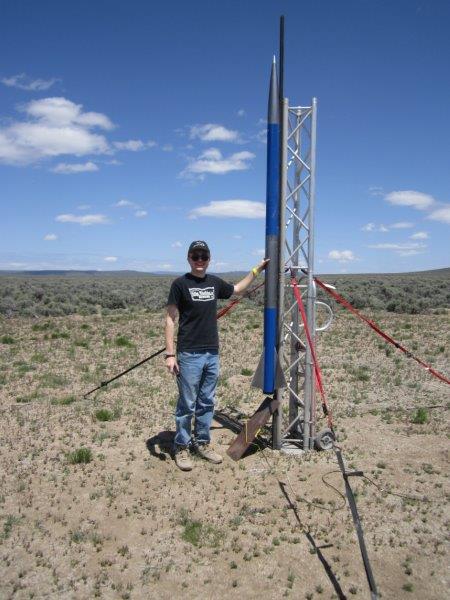 Paul Bogdanich did the honors and the motor took its sweet time to come up to pressure. When it did the rocket roared off the pad and weathercocked a bit on its way to 8213'. I saw the SkyAngle Cert-3 drogue deploy right on top, followed by the big Rocketman 10' main at 1500'. The whole flight was a thing of beauty as it landed 1.15 miles NW of the flightline. As I headed out in the truck for recovery Robert Braibish offered to accompany me. Many thanks, Robert! Fortunately the rocket landed nearby a road, and we could see it from there making for an easy shag – we were back at camp in 20 minutes. All I needed to do afterwards was wipe off the dust and the rocket would be ready for my L3 cert!
Had lunch and cleaned up my usual "mess" back at camp before it got too late in the afternoon. We had another fun night around the campfire, this time burning more sage and cardboard boxes due to the lack of firewood on-site. After we all went to bed a raging thunder and lightning storm hit us that night.
Likewise with Rocketober of last year, Sunday turned out to be the worst weather day of the weekend. It was pretty cold and cloudy with occasional rain showers. I think the biggest motor flown that day was a J and the vast majority of Sunday's flights were low power along with several test flights by a TARC team from Vancouver.
By then attendance was light and I had done the flights I wanted to do, so I packed up camp that morning and hit the road at noon, feeling very satisfied with the weekend. I got home by 5:00, also driving through some serious rain storms on the way back.
Thanks everyone for a great launch!